This is the first time I have joined the Hoo are you Party. It's been fun reading about everyone. If you haven't joined the party you really should!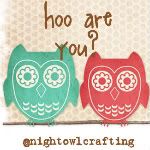 1.Do you wear glasses or contacts, if so for how long?
I wear glasses to read. I have never had contacts and can't imagine starting every morning by sticking my finger in my eye. I got my first pair of glasses my freshman year of college
2. What was your favorite board game as a kid?
I loved Clue… actually I still do.
3. What is a word that you use all the time?
I use the word eleventy-billion all the time. Anytime I have to use a number that's the one I pick. ie: I did eleventy-billion loads of laundry today.
4. What is your favorite day of the week?
Thursdays because it's one of my days off from work.
5. Did you graduate high school from the town you grew up in?
Yep, and I am still friends with several of my friends from elementary school and Junior High.
So...Hoo are you?